Not sure what you are going to do this Valentines Day? Still trying to find the right ways to make the night special? We get it- Valentines day can put a lot of pressure on a couple to make it something romantic or even just a night to remember. And you most definitely don't want to get labeled a date repeater each year. Yikes!
Try some of these simple yet unique date experiences!
A great one if you are looking for something that requires minimal setup and is inexpensive in the best way possible. Grab a few dishes with sandwiches and tea or grab takeout from your favorite restaurant. Place a few candles around the room and walk your partner into a romantic stay at home date!
Don't buy that fancy dessert from the bakery down the street, pick up a whisk and bake your own at home. Make it a fun mess with a flour fight or even a blind folded bake- lead your partner in the right direction to make this masterpiece with touch and communication. Grab a camera a make a memory of the aftermath!
Who says you can't pamper each other? Grab a sensual massage oil (try heat sensation oils), facial masks, and a bottle of your favorite wine or champagne. Get in your comfortable night in clothes, toast to a wonderful life, watch a movie, and enjoy the relaxation. Finish off the night with a sensual massage.
Want to make a night special for everyone? Bring the guys and the girls and double date! You know you'll have fun playing games and sharing the night with close friends, keeping it lighthearted and a night to cherish. Make it a potluck- each person brings a food item for everyone to try!
Painting has become a huge trend lately, you can bring the paint and sip right to your home. Just need a few supplies and a safe place to get a little messy if need be- then a great wine to match. Drink, paint, and see how well you can do replicating a simple painting. Or try a painting gallery local to you and let them supply the goods!
Have you heard of this amazing kit called LOVE IS ART? No! Then add this one to the list of great date ideas this year. Grab a kit from a local Love Store or shop online, they provide a tarp, booties, and a canvas with select paints (body safe). Simply put, the LOVE IS ART kit includes everything a couple needs to craft a one-of-a-kind abstract painting while being intimate on canvas. Capturing the love and creating memories, a lasting reminder of the love, passion and laughs that were shared. The kit also provides a unique bonding experience for the couples involved, as they work together as a team to craft their own unique masterpiece.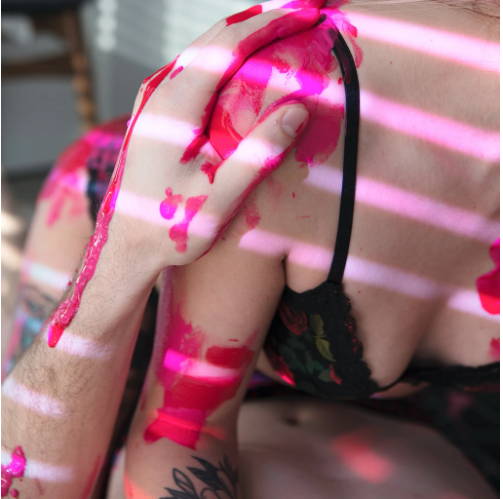 7. Fast Food Can Be Good Food Too
Looking to stay budget-friendly? Well, don't worry, fast food doesn't have to be a bad thing! You could do an out of home activity first then grab a quick bite, bring the food back home, and watch a movie! Your date won't know the difference if you leave eating to the end of the night- just chalk it up to you having worked up an appetite!
Large or small city it doesn't matter, we all have a bowling alley! Get some intimate time together getting to know each other, tease the other for their lack of bowling skills, and share some well-deserved laughs. Watch the competitive nature come out and see if the date turns into a regular date idea!
Book a one-night rental with an Airbnb for that super cute, quant, and secluded cabin in the woods or desert. Taking yourself out of the hustle and bustle of everyday life and changing the scenery will make the moments feel so much more special being truly alone. Plus you can enjoy a little road trip to your destination!
Every town has its own hidden treasures, often overlooked because we live there. Find that unique date you see all the tourists doing- foodie tours, helicopter rides over the city, see a show. You will see your own hometown in a new light pretending like you don't live there and by treating yourselves to the luxuries you wouldn't normally experience.
Good luck this Valentine's Day! We hope you have a one-of-a-kind night!